Google Nest Hub Review: Sleep Tracking Comes to a Smart Home Screen
A voice assistant from Amazon or Google is a great way to control your smart home, but is it the best way? One alternative to a purely audio voice experience is to introduce a screen to the mix and use touch to manipulate your internet-connected devices. Google's Nest Hub has been around for a few years now, but its newly revised second-generation model is a perfect excuse to reconsider the cameraless smart display for your kitchen or bedroom.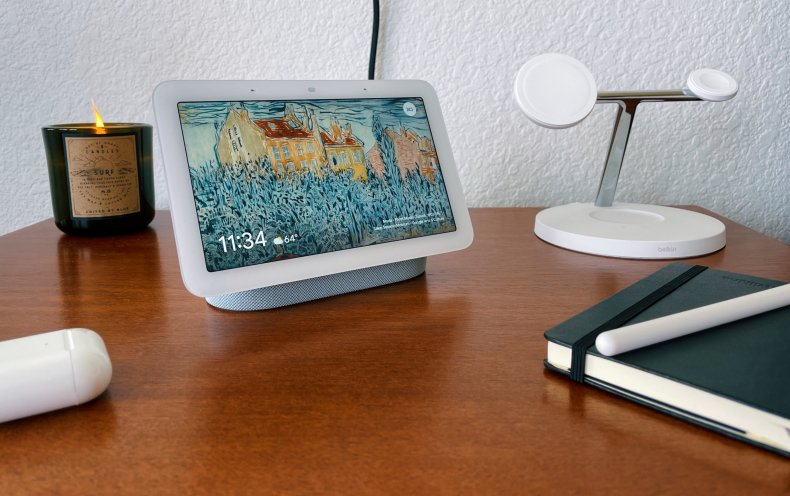 It can be a little confusing identifying this new Nest Hub because it looks just like the first version. The exterior stayed exactly the same, while the inside got a faster processor and a Soli sensor to add its Sleep Sensing feature to the mix.
Let's skip the small talk. If you're a current Nest Hub owner and wondering if you should upgrade from generation one to generation two, the answer is probably no. Yes, there are some differences and new abilities, but unless you need Sleep Sensing, skip this upgrade. On the other hand, if you're shopping for a new smart display to control items in your house and watch videos, this could be a perfect device.
Nest Hub and Sleep Tracking
The headlining feature of the new Nest Hub is its ability to track sleep. It's pretty much the only noticeable new ability. The unit should be faster with its upgraded processor, but I found that component hard to quantify in day-to-day use.
Not only is sleep tracking new to this device, but it does so in an almost unbelievable way. It uses a Soli sensor to detect motion and microphones to listen for specific sounds. There are no cameras watching, but the sensor can pick up depth and objects with its radar technology.
Google first put a Soli sensor on its Pixel 4 phone to enable people to skip songs or snooze alarms by waving their hands, without needing to touch the phone. It has also included the sensor in its latest Nest Thermostat for control of the device at a distance. So far, most of the time, the sensor's applications have relied on active user participation, but no longer on the Nest Hub. Once Sleep Sensing is configured, there's no need to remember what gestures are needed.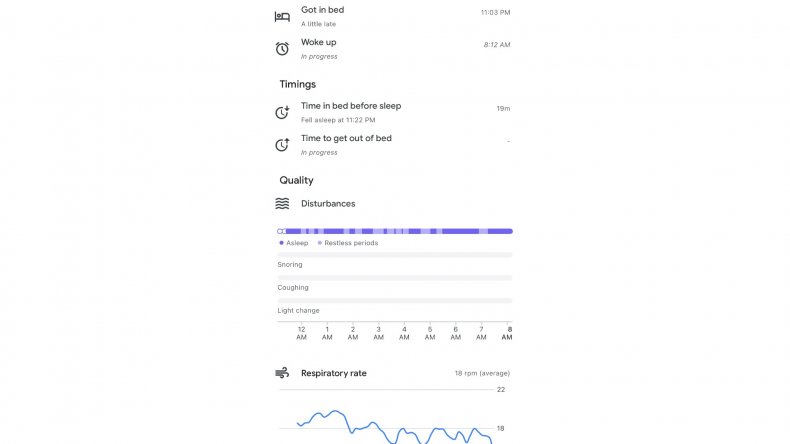 The big question is, How does this passive sleep tracking work? Surprisingly well, in fact. I've been sleeping on an Eight Sleep mattress pod with built-in sleep tracking, so I have a direct comparison. Eight Sleep has sensors on the mattress, so it can even detect heart rate, but otherwise Nest Hub matches most of its sleeping metrics.
The Nest Hub can report on time in bed compared to time asleep, sleeping disturbances, restless periods and respiratory rate. The disturbances are also broken down between snoring, coughing and changes in light.
The results can be displayed on the Nest Hub itself but are also synced to the Google Fit app, so you can see them anywhere. Within Google Fit, you can see data in a weekly or monthly view. Compared with Eight Sleep's, the data collected by the radar sensor and mics on the Nest Hub is remarkably close. Throughout the first week, the metrics were within minutes of each other. After a few months of having data collected and direct sensor contact, I trust the Eight Sleep results as a baseline. I was pretty amazed by the similar accuracy Nest Hub displayed on the first night, and then beyond.
While Nest Hub might not be the most precise way to track sleep, the big takeaway here is that it does a solid job. It's good enough to provide insights into your sleeping habits, for sure. There's nothing to wear, and at $99, it's an economical option. Right now, Google advertises that the Sleep Sensing feature is free to use, but starting next year, it will likely be rolled into FitBit's premium paid service—a future consideration.
Another caveat to its sleep tracking is that it only works for one person. It should be sitting on a nightstand within a few feet of where you sleep to work properly. The requirements aren't unreasonable but may be an issue for some bedroom configurations.
A Smart Home Display
As a smart home display, Nest Hub continues to be a solid option. Again, there's nothing here that's different than the previous version, beyond that it may or may not feel speedier at times.
The Nest Hub Max is the bigger alternative, and it does include a camera for video calls. This smaller model is really aimed at being a bedside clock and a control center for lights and locks. Conveniently, if you have Nest Cams or a Nest Hello doorbell, the video streams are viewable on the Nest Hub.
Even though its 7-inch touch display doesn't provide a cinema viewing experience, it still handles video services. You can cast enabled apps to it as well as natively view YouTube, Netflix and other streaming content.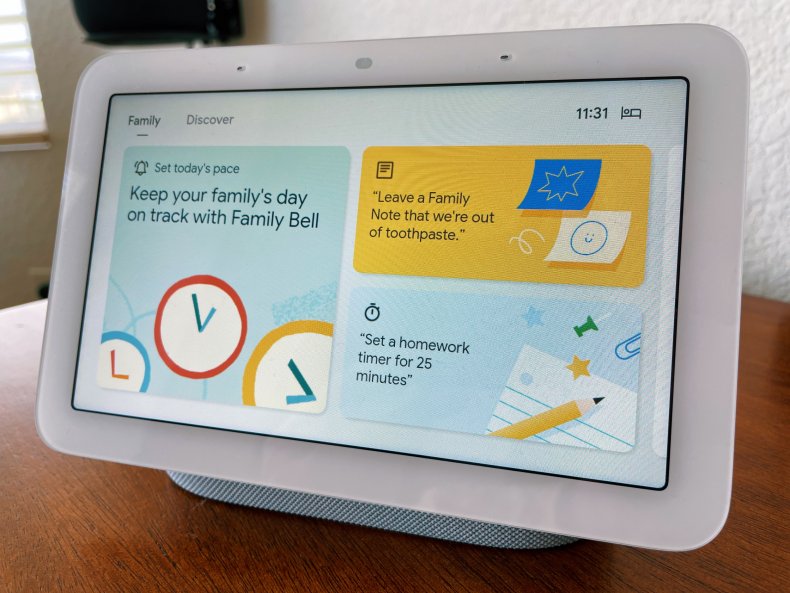 The device works well for casting music, as well, and is supported by all major streaming services, including Spotify, Apple Music and Pandora. The speaker inside isn't massive, but it does make a great media player, beyond its smart home capabilities.
Should You Buy a Google Nest Hub?
For general smart home use, including controlling lights, cameras and watching videos, it's hard to beat the $99 Nest Hub. Its cameraless display means it can reside nearly anywhere without creating an uncomfortable feeling. Now that it has surprisingly good sleep tracking built-in, it's an amazing bedside clock, too.
The downsides for the Nest Hub aren't in what it can or can't do but rather how you go about doing some of those things. When the display is passively showing you weather and photos, even suggesting smart home controls, it's great. When you need to go searching for a specific task, Google's messy Home and Assistant companion apps are where things can get complicated.
I find Google Home's exhaustive feature list and menu items unbearable to sort through and use. But, luckily, most of the time, I can avoid hunting and pecking through the apps.
Overall, the new Nest Hub is great for newcomers, like it's always been. The upsell for existing owners is much harder, but if you need to track your sleep, this does it well.
Buy at Best Buy.
Newsweek may earn a commission from links on this page, but we only recommend products we back. We participate in various affiliate marketing programs, which means we may get paid commissions on editorially chosen products purchased through our links to retailer sites.
Android and Nest are making the smart home feel smarter with Matter | Android Central
Matter is designed to solve the smart home with a new standard that all smart homes can operate on. Google is bringing Matter compatibility to its Android and Nest ecosystems to make pairing and controlling smart home devices as easy as plugging in a USB drive.
Purina to take guesswork out of pet nutrition with IoT 'smart bowl' – Smart City
"Our Purina Chekr smart bowl is managed by our Purina intelligence engine built on and powered by AWS IoT services. "This system allows pet owners … To Read More, Please Visit Source
Building Solar Energy Monitoring Systems Using IoT – floLIVE
The global Energy market is going through substantial change, with renewable energy at an all-time high, and growing fast. While Asia-Pacific continues to dominate, interest in solar energy is growing all over the world.
According to Mordor Research, "the renewable energy installed capacity reached 2713.60 GW in 2019, and it is anticipated to reach approximately 4391.18 GW by 2026, at a CAGR of 7.13% during 2021-2026." Below you can see how renewable energy is being adopted globally, proving that worldwide, solar power and sustainable energy solutions are a seriously hot topic. (No pun intended.) To understand more about how IoT is facilitating this growth, keep reading!
Solar Energy IoT and Smart Home Monitoring Systems
Integrating solar energy into smart homes is becoming more popular as solar panels continue to reduce in cost, but this can only happen if there are solar energy monitoring systems in place – and that's where IoT comes in.
IoT can allow consumers and businesses to monitor the use of solar energy on a much more granular level, giving a better understanding over which appliances and services are the most energy efficient, how much power is being used, as well as insight into when and how.
For enterprises looking to facilitate and maintain solar panels and renewable energy, IoT can allow for remote maintenance, and even predictive analysis that drives down costs even further. Deep visibility can allow companies to decrease the stress on their equipment, better balancing energy loads, and alerting ahead of time to issues such as overheating.
Large-scale Solar Operations Need Remote Monitoring to Suit
While residential application is a large part of the drive to renewable energy, many energy companies are looking into increasing their solar farms, and managing power consumption and renewable energy on a much larger scale. Solar power production for energy companies can be improved exponentially with the help of IoT monitoring. As sensors become more affordable, and connectivity solutions evolve, enterprises could see huge benefits from IoT, without much risk to speak of. Here are four examples:
Maintenance: Traditionally, workers on a solar farm would need to locate and check every panel regularly to ensure that they are working as expected. These inspections can become a thing of the past when all your solar panels are connected to a centralized data source. In fact, when there's a problem, your asset management system can let you know with a simple alert, freeing up your staff for higher value tasks. With predictive intelligence, you're less likely to suffer as a result of outages or power issues.
Performance: By amalgamating the data that comes from your panels, grid managers will be able to spot anomalies such as solar panels or units that are under-performing, and even the reasons why, such as temperature, dust, or extreme weather conditions. Managers can then make smart changes, such as moving units, increasing the volume of cleaning, or making changes in insulation or alignment.
Security: Especially when solar panels and solar farms are in rural areas (often the case when it comes to renewable energy sources), it's essential to have a monitoring system to keep them secure from physical theft, or even vandalism. With IoT sensors, you can establish rules for theft-related alerts, such as movement around the panels, or if a panel has been removed from the outer structure of the grid.
Forecasting: With business intelligence tools integrated into your IoT monitoring system, analytics can help you see true business growth at a much faster rate. For example, anticipate how much energy will be needed on a specific day, streamlining how much energy you use and conserve, respectively. This can improve the balance of supply and demand in the smart grid itself, saving serious zeroes off your bottom line.
When it Comes to Solar Energy… Not all IoT Technologies Are Created Equal
IoT monitoring systems have a few key needs, but top of the list is connectivity. However, this is not just any connectivity. As solar panels are often in rural areas, and sensors can often be manufactured in one location and sent to another where the energy grid is based, availability is a key issue to address first and foremost. There could be many thousands of panels or units on a large-scale solar farm, so price is also an important point to consider. One of the main contributors to cost is battery life, as the battery is often more expensive to replace than it would be to deploy new devices and sensors altogether.
LPWAN solutions and cellular IoT connectivity are a great fit for IoT monitoring in the Energy sector, with the packet size and data rates to meet these unique needs. floLIVE offers a one-of-a-kind solution in the form of software-defined connectivity, providing global connectivity through globally distributed core networks deployed in different regions. Each of these hosts a local IMSI, and they are centrally managed over the cloud. This unique approach has formed the world's largest IMSI Library. In practice, this means that sensors can be manufactured anywhere, and IoT devices simply connect locally when they are turned on. This not only eliminates data privacy and security issues, but it also reduces the amount of time the IoT device has to be awake each time it transmits information, extending the lifespan of its battery overall.
Solar Power is the Future – and IoT Technology is Making That Happen
"The IEA expects solar energy to play the biggest role in jumpstarting fresh growth in global renewable energy because falling costs are already below retail electricity prices in most countries. The cost of solar power is expected to decline by a further 15% to 35% by 2024, spurring further growth over the second half of the decade."
The world is ready for solar energy, but without an IoT solution in place for remote monitoring, the benefits are going to be limited for today's enterprises.
Ready to discuss your roadmap for sustainable energy augmented by IoT technology? Let's talk.