Google Nest Hub Review: Sleep Tracking Comes to a Smart Home Screen
A voice assistant from Amazon or Google is a great way to control your smart home, but is it the best way? One alternative to a purely audio voice experience is to introduce a screen to the mix and use touch to manipulate your internet-connected devices. Google's Nest Hub has been around for a few years now, but its newly revised second-generation model is a perfect excuse to reconsider the cameraless smart display for your kitchen or bedroom.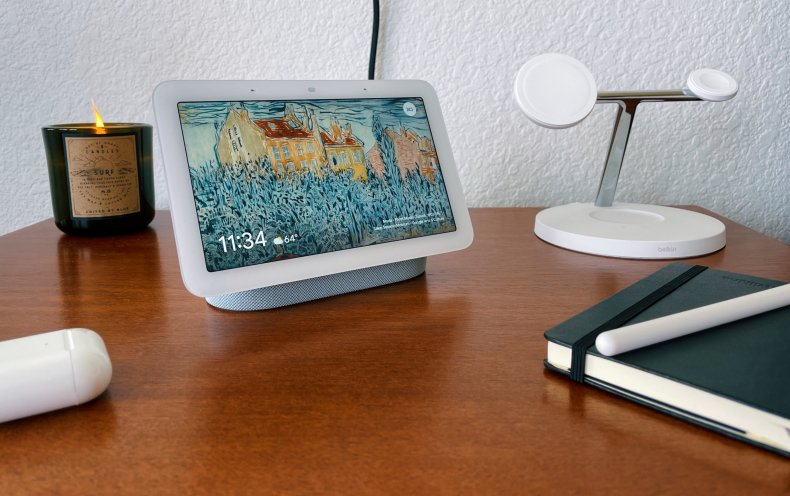 It can be a little confusing identifying this new Nest Hub because it looks just like the first version. The exterior stayed exactly the same, while the inside got a faster processor and a Soli sensor to add its Sleep Sensing feature to the mix.
Let's skip the small talk. If you're a current Nest Hub owner and wondering if you should upgrade from generation one to generation two, the answer is probably no. Yes, there are some differences and new abilities, but unless you need Sleep Sensing, skip this upgrade. On the other hand, if you're shopping for a new smart display to control items in your house and watch videos, this could be a perfect device.
Nest Hub and Sleep Tracking
The headlining feature of the new Nest Hub is its ability to track sleep. It's pretty much the only noticeable new ability. The unit should be faster with its upgraded processor, but I found that component hard to quantify in day-to-day use.
Not only is sleep tracking new to this device, but it does so in an almost unbelievable way. It uses a Soli sensor to detect motion and microphones to listen for specific sounds. There are no cameras watching, but the sensor can pick up depth and objects with its radar technology.
Google first put a Soli sensor on its Pixel 4 phone to enable people to skip songs or snooze alarms by waving their hands, without needing to touch the phone. It has also included the sensor in its latest Nest Thermostat for control of the device at a distance. So far, most of the time, the sensor's applications have relied on active user participation, but no longer on the Nest Hub. Once Sleep Sensing is configured, there's no need to remember what gestures are needed.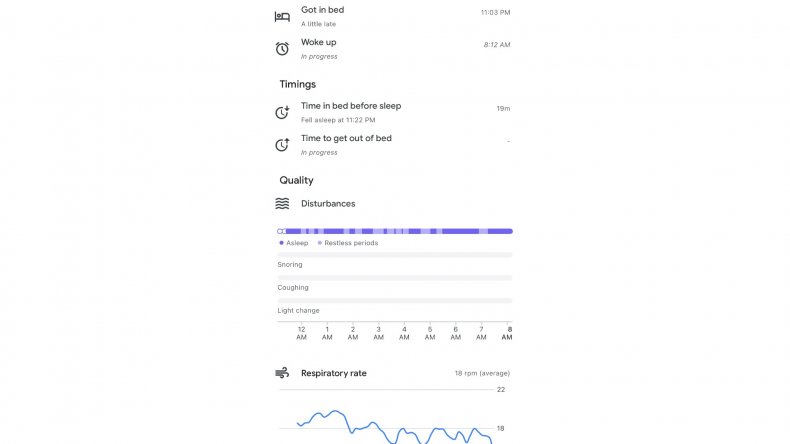 The big question is, How does this passive sleep tracking work? Surprisingly well, in fact. I've been sleeping on an Eight Sleep mattress pod with built-in sleep tracking, so I have a direct comparison. Eight Sleep has sensors on the mattress, so it can even detect heart rate, but otherwise Nest Hub matches most of its sleeping metrics.
The Nest Hub can report on time in bed compared to time asleep, sleeping disturbances, restless periods and respiratory rate. The disturbances are also broken down between snoring, coughing and changes in light.
The results can be displayed on the Nest Hub itself but are also synced to the Google Fit app, so you can see them anywhere. Within Google Fit, you can see data in a weekly or monthly view. Compared with Eight Sleep's, the data collected by the radar sensor and mics on the Nest Hub is remarkably close. Throughout the first week, the metrics were within minutes of each other. After a few months of having data collected and direct sensor contact, I trust the Eight Sleep results as a baseline. I was pretty amazed by the similar accuracy Nest Hub displayed on the first night, and then beyond.
While Nest Hub might not be the most precise way to track sleep, the big takeaway here is that it does a solid job. It's good enough to provide insights into your sleeping habits, for sure. There's nothing to wear, and at $99, it's an economical option. Right now, Google advertises that the Sleep Sensing feature is free to use, but starting next year, it will likely be rolled into FitBit's premium paid service—a future consideration.
Another caveat to its sleep tracking is that it only works for one person. It should be sitting on a nightstand within a few feet of where you sleep to work properly. The requirements aren't unreasonable but may be an issue for some bedroom configurations.
A Smart Home Display
As a smart home display, Nest Hub continues to be a solid option. Again, there's nothing here that's different than the previous version, beyond that it may or may not feel speedier at times.
The Nest Hub Max is the bigger alternative, and it does include a camera for video calls. This smaller model is really aimed at being a bedside clock and a control center for lights and locks. Conveniently, if you have Nest Cams or a Nest Hello doorbell, the video streams are viewable on the Nest Hub.
Even though its 7-inch touch display doesn't provide a cinema viewing experience, it still handles video services. You can cast enabled apps to it as well as natively view YouTube, Netflix and other streaming content.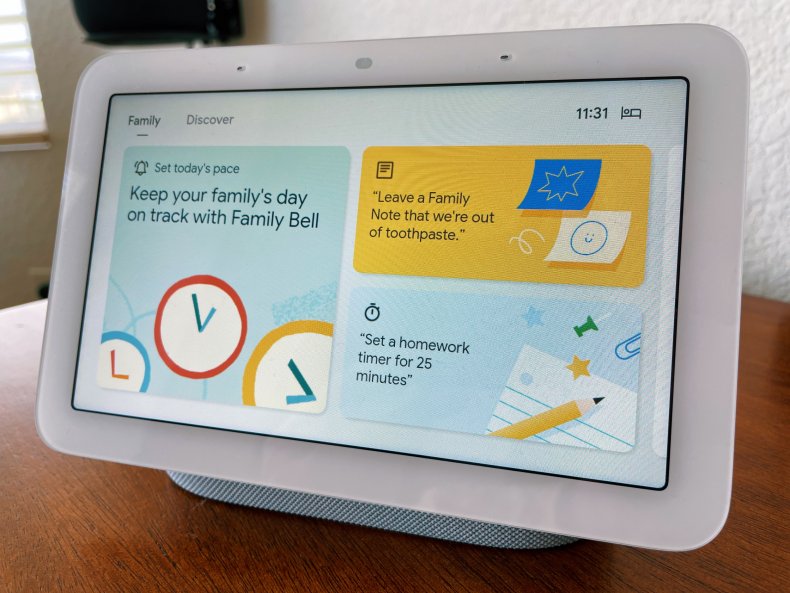 The device works well for casting music, as well, and is supported by all major streaming services, including Spotify, Apple Music and Pandora. The speaker inside isn't massive, but it does make a great media player, beyond its smart home capabilities.
Should You Buy a Google Nest Hub?
For general smart home use, including controlling lights, cameras and watching videos, it's hard to beat the $99 Nest Hub. Its cameraless display means it can reside nearly anywhere without creating an uncomfortable feeling. Now that it has surprisingly good sleep tracking built-in, it's an amazing bedside clock, too.
The downsides for the Nest Hub aren't in what it can or can't do but rather how you go about doing some of those things. When the display is passively showing you weather and photos, even suggesting smart home controls, it's great. When you need to go searching for a specific task, Google's messy Home and Assistant companion apps are where things can get complicated.
I find Google Home's exhaustive feature list and menu items unbearable to sort through and use. But, luckily, most of the time, I can avoid hunting and pecking through the apps.
Overall, the new Nest Hub is great for newcomers, like it's always been. The upsell for existing owners is much harder, but if you need to track your sleep, this does it well.
Buy at Best Buy.
Newsweek may earn a commission from links on this page, but we only recommend products we back. We participate in various affiliate marketing programs, which means we may get paid commissions on editorially chosen products purchased through our links to retailer sites.
Google Nest Hub Max Smart Home Assistant (Chalk, Refurbished, Plain Box) – EXPANSYS Japan
Best Amazon Prime Day Arlo, Nest, Ring, Blink & Smart Home Deals 2020: Top Security Camera, Video Doorbell, Floodlight, Alarm & Philips Hue Sales Presented by Deal Tomato
Prime Day smart home & security camera deals for 2020 are finally here, browse all the latest Prime Day Ring Video Doorbell, Nest Protect & Thermostat, Philips Hue smart LED bulb, Arlo Pro & Blink Mini sales listed belowPrime Day home secur…
Which Smart Home Heating Should You Choose?
Not all smart heating control systems are suited for every lifestyle and home, with some more and less beneficial than others. SMART stands for 'Self-Monitoring Analysis & Reporting Technology', and differs from standard heating controls by allowing you to control every aspect of your heating schedule from either a phone or tablet. Although room thermostats and timers allow you to control each room instead of your whole home, as long as you have internet access, smart home heating devices let you control your heating from your phone, no matter where you are in the world.
Today, we're running through 7 of the best smart heating thermostats and systems, comparing features, benefits and what type of home they're most suitable for.
– 7 day, & 5/2 day scheduling with a pre-configured schedule included
– Choice of up to 4 time periods a day
– Minimum On-Time & Cycle Rate settings ensuring compatibility with many boilers
– Table stand for ease of positioning
– Alert messages to assist fault-finding with a fail-safe mode
– Wireless technology makes upgrading easier and the installation time shorter with less wiring involved
Best for:
– Homes that require high levels of automatic control that provide significant energy efficiency for a wide range of boilers and systems.
– Single Heating Zone Control
– 7 Day, 5/2 Day, or 24 Hour Control
– Programmable Room Thermostat
– Easily Programmed With The Associated App
Best for:
– Homes that are just starting to take the first steps into using smart home heating
– Homes that need a single heating zone control
– Homes that have either combination or standard boiler systems
– Touch-screen interface simplifies scheduling, changing and overriding temperature
– Location-based programming (geo-fencing) adds an automated layer of control, adjusting the customer's home heating based on their location
– Scheduling features include 7 and 5/2 day bespoke scheduling with up to 6 time periods a day
– Simple flip-up wiring bar for easy access and an easy-to-install boiler or zone valve interface
– Direct wall mounting or wall-box mounting
– Optimisation features include optimum start and stop & delayed start boiler control. Allows the thermostat and boiler to work more efficiently together
Best for:
– Homes with any boiler and almost every heating system
– Homes with 230V on/off OpenTherm appliances (gas boilers, combi boilers and heat pumps)
– Ability to control water temperature and heating
– Self-learning functions to make every experience a unique one, helping it to understand your home's needs
– Using a smart weather compensation feature and weather data, the vSMART can tell your boiler how hard it has to work to get your home to your required temperature
– You can connect multiple vSMART controllers to one app
Best for:
– Homes with Valliant ecoTEC system/open vented boilers
– Households that want to be able to control water temperature from anywhere too
– A 7-day full programmer that gives great flexibility offering up to three on/off switchings per day
– LoT display, providing text feedback that gives help and programming hints
– Automatic Summer/Winter 1 hour time change
– Choice of 3 different built-in programmes
– 'Holiday' button
Best for:
– Homes with heating and stored hot water in complete systems
– Homes with older gravity circulation stored hot water systems, where there's no interlocking control valve
– Households with different heating needs from day-to-day
– One channel thermostat system with two radiator thermostats to start zoning your system
– Smart heating & hot water control
– Quick & simple to install using an industry-standard backplate
– Easy Zoning with the addition of extra Wiser Radiator Thermostats
Best for:
– Homes with combination boilers
– Households that want to start a zoned system to control individual zones within the home
– Automatic time and temperature control of domestic heating premises
– Optimum Start, Optimum Stop and Delayed Start
– No installer links or switches on the back of the unit means no adjustment is required for combi boilers and most central heating systems
– Scheduled maintenance alert
– Automatic Summer/Winter time change
– Up to four independent time & temperature settings
– Auto, manual, holiday, override and off (frost) modes
Best for:
– Domestic premises
– Most central heating systems and combi boilers
For more smart home heating controls, check out our full range today at MonsterPlumb. If you're not interested in smart technology when it comes to controlling the heating and water temperature in your home, take a look at our selection of heating controls and valves.